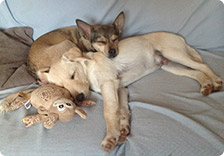 The Contented Canine Company is a dog grooming salon located within the Gravesend area that caters for dogs of all types, whether young or old, large or small. The company is owned and managed by Jo Clark, a City and Guilds qualified groomer with over 8 years grooming experience and a 1st class honours degree in Applied Animal Behavioural Science and Welfare.
At our salon we aim to make every groom a positive experience for your dog and are able to work with owners in order to help dogs overcome any grooming fears. Our services include bathing, trimming, clipping, hand stripping and nail trimming. We cater for all dogs, from puppies to golden oldies and can discuss an individual dog's grooming requirements in order to help keep them happy and healthy.
We are passionate about dogs and their well-being and are proud to offer a service that contributes towards this.